Life Lessons
Share Your Survival Story
"We're in This Together" Survival Stories Giveaway!
We're working in collaboration with our local Wichita digital advertising agency, Lee Media Group, to give back together. Submit your story (anonymously) for the chance to win an Ava Said $200 gift card. We want to hear about a life lesson you've overcome or if you're overcoming one currently with the pandemic. Your story could help someone else going through similar hardship AND if chosen, it could be featured on a t-shirt!
Ava Said, "I believe there is a story behind every name…a story that needs to be heard."
Writing is therapy for healing. Whether you've been a victim of homelessness, depression, survived addiction, or any life crises – we invite you to submit your story and share your life lessons and your journey to empowerment.
Our goal is to let survivors know they aren't alone in life's struggles. Ava Said is continuously working to create resources and prevent more crises from occurring. Together, we strive and thrive! Submit your story. It could be featured on one of our products!
Chaos Free
In the beginning, things were not easy for my brother, mother, and I. My dad was abusive – physically and mentally. He was very abusive to my mom, putting her down every chance he got.
My mom worked three jobs while my dad did nothing but bring other women in and out of the house. He wouldn't feed us and would make us stay in our room until my mom got home from work. There were times we would sneak out of the room to get food out of the kitchen. Things were hard and eventually, it got to the point where my dad had gotten really physical with my mom. He had broken a plate over her head and hit her – but she fought back, protecting my twin brother and I.
In the end, we moved in with my grandparents and things got easier. My mother is amazing and did such a great job serving two roles as both our mom and dad. My brother and I are close. The things we have gone through have made us who we are and made us into strong men so that we can now take care of our mom.
(I)
Today I met Vera. I approached her and introduced myself to her and I asked her if she wanted something to eat. She said yes please, that would be kind.  We started talking and I started asking her about life. She started telling me her story. She's been on the streets for 8 years due to addiction and depression and abandonment.  As she's telling me her story I was in tears seeing someone so talkative and in good spirits feel that she's not worth having a better life.  I asked her if she would name her story what would she name it. She said (I) and ask her why. She says because we're all (I). She says "you can be (I), (I) can be you. I don't want this life but I didn't have a choice." As she said that I hugged her.  She was surprised that I gave her a hug.  We spoke for 45 minutes outside. When I asked her what would be something that homeless women would like  to have as an everyday need she said, to my surprise, make up, such as lipstick, a pair of earrings, and perfume. I asked why those things and she said because when we're stressing and realize where we are in life having those things makes us feel a little bit special for that moment. It touched my heart.
Vera and I are supposed to meet again soon.  Talking to Vera reminds me of why I started the Ava Said project to help people like her. Vera thanked me for approaching her and for her dinner.  What she doesn't realize is that I thank her for spending time with me. Always be kind to others. We all have a story to tell.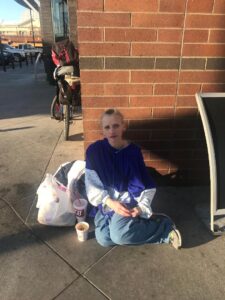 Destiny
I met Mohamed about three months ago. I have seen Mohamed quite a bit previous to introducing myself to him. A teammate and I were out looking to provide food, clothing or anything else that we could to the homeless. As I introduced my teammate and myself, I could tell by the expression on Mohamed's face that he was surprised that we were approaching him. I started by letting him know that I had seen him before.  He was surprised and smiled when I told him that. As we started telling him about our daily life, we could see Mohamed opening himself to tell us his story. Before we left we asked him if we could provide him with any food. His only request was for a bottle of water.
Mohamed is from Canada and he has been on the streets for 11 years. He started living on the streets due to his divorce, mental illness, and losing his identity papers. He carries buckets of trash and other things with him at all times. I asked him why he carried all those things. He replied,"it's an illness of mine and they mean something to me." To you and I it could be trash, but to Mohamed they meant something special.
I asked Mohamed what would he name his story and he said "DESTINY" because he believes that it is his destiny to be living in the streets… but is it? I've been visiting Mohamed once a week since the first time I met him. Every time I go to see him I ask him what can Ava Said provide for you and he's never asked for anything from me since that bottle of water. So I asked him," why is it that you never let me provide food, clothing or anything to you?" He answered, "I don't need anything and you're already doing a lot by coming to visit me. I thank you for coming to talk to me." Whenever I visit him he asks me what I'm doing and I tell him I'm coming to check up on him to see if he needs anything. He asks the same question and I give the same answer… and he smiles every time. He enjoys knowing that someone cares to go and check up on him.
Mohamed has made me realize that it's not about the things we provide but about the willing and caring attitude of someone that gives a person hope and a little light in their life. I have learned a lot from Mohamed and his life experiences. As I talk to him I can see how much he would like to live in a world like the rest of us, but he feels that his mental illness won't give him that opportunity. As Ava Said, "there are stories that need to be heard" and Mohamed's is definitely one of those. Remember to always be kind to others. We all have a story to tell.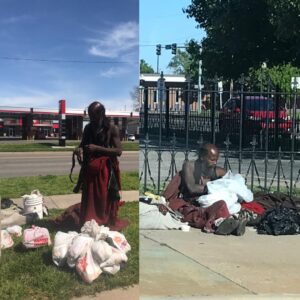 Sorry to Let You Go. I Needed to Love Me More.
Sometimes in our lives, we have to let go of a friendship, relationship, or family member – not because we don't love them anymore, but because they're not making a positive impact to our wellbeing. You learn that you need to love yourself more than the feelings you have for them. Once you prioritize the need of loving yourself more, you become you again…a better you.
I Was Your Blessing. You Were My Lesson.
I was a blessing in someone's life when they were in a dark place, without hope and happiness. I helped change their journey for a better them – and they became my lesson for a new me. The lessons I learned were to love me first, to be loyal to my standards, and to regain my self worth.
I learned that it is not the path you walk that defines you, but the "u-turn" you make that creates a new you for a better tomorrow.
I'm a Privilege, Not an Option.
From a young age, I was taught the qualities of kindness, love, honesty, and accountability. These values would later define my self-worth to always see myself as a privilege in someone's life. Because of these values, I understand I will never be an option. I will never be thrown away as if I didn't exist or as if I wasn't worth someone's time. I will always be a privilege and treated with the respect I will always deserve.
Fearless
As I was growing up, I always had a fear of the unknown, a fear of hatred, and a fear of those who wanted to see me fail. I had a fear of changing who I was and becoming someone I wasn't.
I became fearless of the unknown, fearless of hatred, and fearless of those who wanted to see me fail. I began to understand who I was, my wants, and where I wanted to be in life. Now, I am fearless of any obstacles that come my way.
Brave
As I walk the streets, I ponder my existence, my choices, and the possibilities I could have for a better life. Depression, anxiety, drug addiction, and pain are the reasons that force me to walk the streets every day wondering if anyone cares. I see the fear on people's faces as they judge me. They don't know that I crave and yearn for a better me. What they don't see is how brave I am for realizing where I am today and for the change that I want to make for a more fulfilled life and a better being. From the outside, they don't see the bravery I hold within.